3rd Stage replacement filter element for ZIP Countertop Reverse Osmosis System
Third Stage Purification - 75 Gallon Per Day Reverse Osmosis Membrane. This element needs to be replaced only every 2 - 4 years, or as needed.
Note: If the reverse osmosis membrane is getting clogged due to high amounts of hardness present in the water, please use Alcapure Bundle with Anti-Scale Carbon Prefilter or OnliPure Filters Bundle with Anti-Scale Carbon Prefilter in conjunction with the reverse osmosis membrane.     
To reset the reverse osmosis membrane replacement indicator (Solid Red Light) unplug the power supply from the back of the unit and plug it back in while pressing and holding the "push" button. 
Customer Reviews
Write a Review
Ask a Question
Filter Reviews:
problem
Water
membrane
questions
filters
company
Eric
order
part
RKIN
12/03/2020
Melissa H.
United States
I recommend this product
Helpful Customer Service!
I recently had trouble with my water filter, but Yves helped me discover what the problem was and the RO membrane replacement fixed the issue 100%. You can really tell the difference in the taste of the water when it doesn't work!
11/17/2020
DAVID B.
United States
I recommend this product
ZIP Filter Replacement Customer Support Good
At two years, It was time to replace both the pre and post filters and the RO membrane. It went well, except for putting back the safety clips under the collets where the tubes went into the post filter (it is almost impossible to lift the collet enough to insert the clip after you push the tube in). I called Customer Support to see if there was a trick for doing it. They were very helpful, saying the clips are not needed where the tubes enter the filter, since they lock. We shall see! Overall, a very pleasant conversation.
11/11/2020
G.
United States
I recommend this product
Thank you Yves F.!
I was having problems with my machine because I hadn't changed the filter, and needed a new membrane. I had the absolute pleasure of speaking with Yves F. about the whole matter. He helped me diagnose the problem, and was generous with his information, and with his offering of solutions. I'm very happy to be dealing with the RKIN company's customer service, thank you Yves!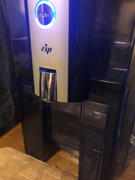 11/11/2020
Heather
United States
I recommend this product
Great support
Yves F. patiently assisted me by troubleshooting a slow flow issue on a new countertop unit. They were friendly/personable and gave excellent instructions. This filter ended up being the part needing replacement. Fixed the problem and now the unit works perfectly. Thank you!
10/31/2020
Griselda R.
United States
I recommend this product
Happy customer
Great quality product, customer service and water tastes awesome! Highly recommended.