Dual Function TDS Meter for Water Quality and Temp Measurements
MSRP
$0.00
Regular price
Price
Sale price
Sale $14.99
Save

%
Sold out
Unit price
per
Measure TDS and Temperature of drinking water
Hold button for easy measurement readings
Range 0-9990 PPM
Batteries included
WHAT ARE TOTAL DISSOLVED SOLIDS OR TDS?
Total Dissolved Solids Or TDS is a measure of the dissolved combined content of all inorganic and organic substances present in a liquid. TDS is sometimes referred to as parts per million (ppm). You can test water quality levels using this digital TDS PPM meter.
Primary sources for TDS in receiving waters are agricultural & urban runoff, clay-rich mountain waters, leaching of soil contamination, & point source water pollution discharge from industrial or sewage treatment plants.
TDS in parts per million (PPM)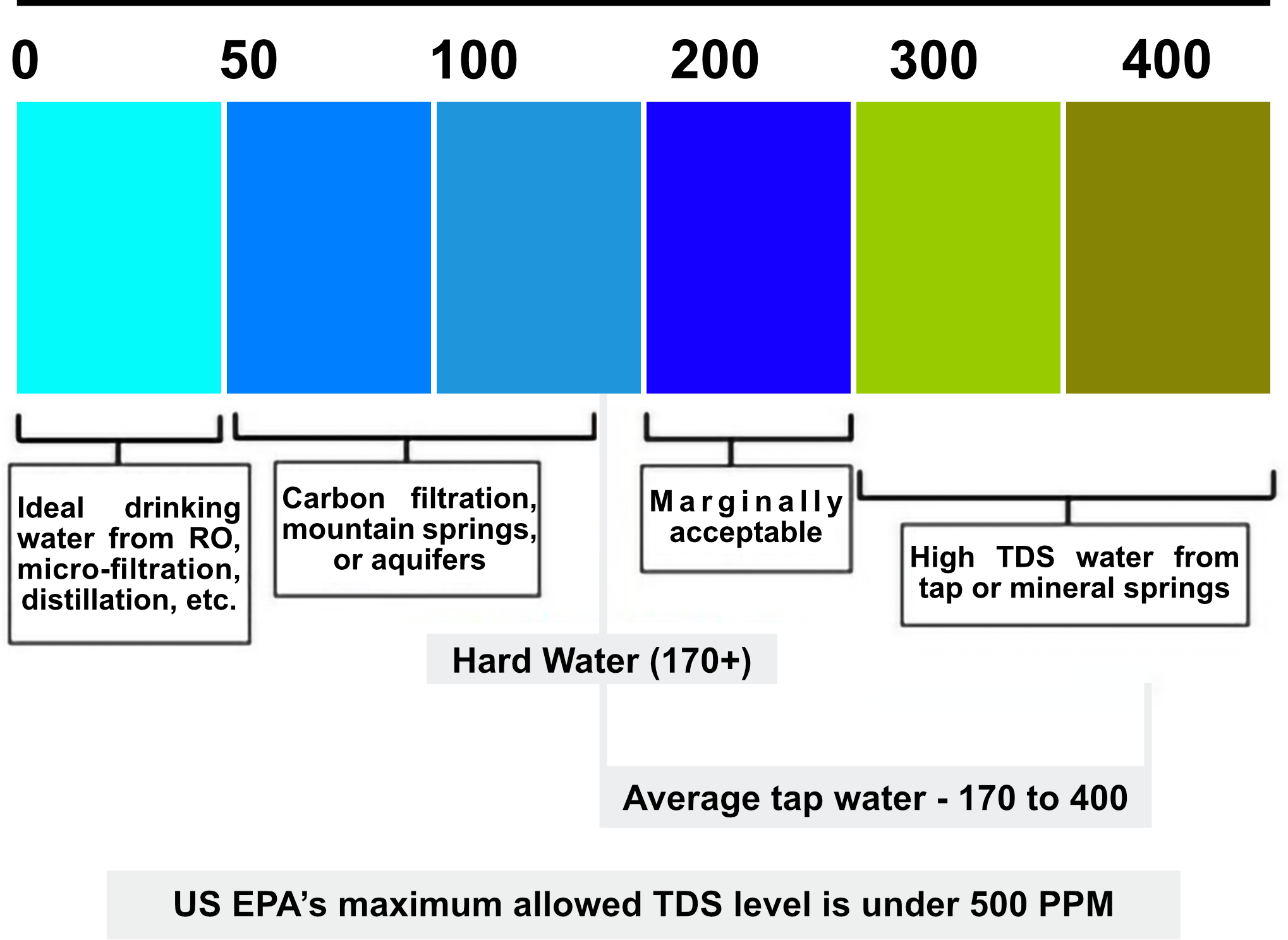 Chart values represent national U.S. averages. Actual TDS levels for geographic regions may vary.
Share
REVIEWS
Customer Reviews
83
reviewers would recommend this product
Write a Review
Ask a Question
Filter Reviews:
Water
customer service
order
TDS meter
Yves F
same
quality
replacement
Information
device
I recommend this product
TDS Monitor
I guess it's accurate.
08/16/2022
Roger

United States
I recommend this product
Counter Top Reverse Osmosis
I highly recommend this product
Thank you so much for your review. We appreciate all feedback.
07/21/2022
Mitzi S.

United States
I recommend this product
TDS Meter
I already had a similar meter that was included free with a filter pitcher but the one RKIN offers seemed more robust and also reports water temperature, useful data for when I cook. The other meter will now go into the camper to check n campsight water, but the RKIN will be kept on hand in my kitchen.
Thank you so much for your review, we appreciate it very much.
06/15/2022
Linda M.

United States
I recommend this product
Works great!
Very easy to use so far. Water tastes great!
Thank you for your review.
12/20/2021
Mary F.

United States
I recommend this product
Difficult to read
I thought it would also measure the alkalinity of the water. It does not. I had to call your customer service and speak to Angelina to help me understand it.
More information regarding the TDS Meter: What is being measured? The TDS value (Total Dissolved Solids) gives the sum of dissolved solids in water. These solids include for example salts, minerals and metals. The value is also called the conductivity of the water. Because the more such solids or ions are in the water, the better it conducts electricity. TDS meters typically quantify this conductivity in microsiemens or ppm. The latter stands for parts per million, i.e. the number of solid particles per one million water mixture particles. A value of 40 ppm means that from one million particles there are 40 dissolved ions and the rest (= 999 960) are water molecules. What does it tell about the water quality? Anyone who assumes that water with a ppm value of zero, is automatically free from any pesticides and drug residues, is far from it. All the TDS meter measures, are merely the number of ions in the water. Most of the pesticides, hormone-disturbing substances and drug residues are usually no ions! In short: a water with a low ppm value is virtually free from salts and minerals, but can hide a large cocktail of non-ionic chemicals in itself. The result of a TDS meter is therefore not very meaningful with regard to the actual water quality. Other analytical methods, or a water analysis by a reputable laboratory, may be better suited to find out about the real water quality.