Regular price
$499.95
Sale price
$299.45
Unit price
per
Sale
Sold out
Enjoy the peace of mind that comes with up to 99% removal of contaminants, including fluoride, chlorine, and heavy metals

Choose from our AlcaPure or OnliPure editions for alkaline pH or zero TDS filtration options

Trust in our NSF/ANSI 58 certified reverse osmosis membrane, 1-year warranty, 1-year satisfaction guarantee
Share
View full details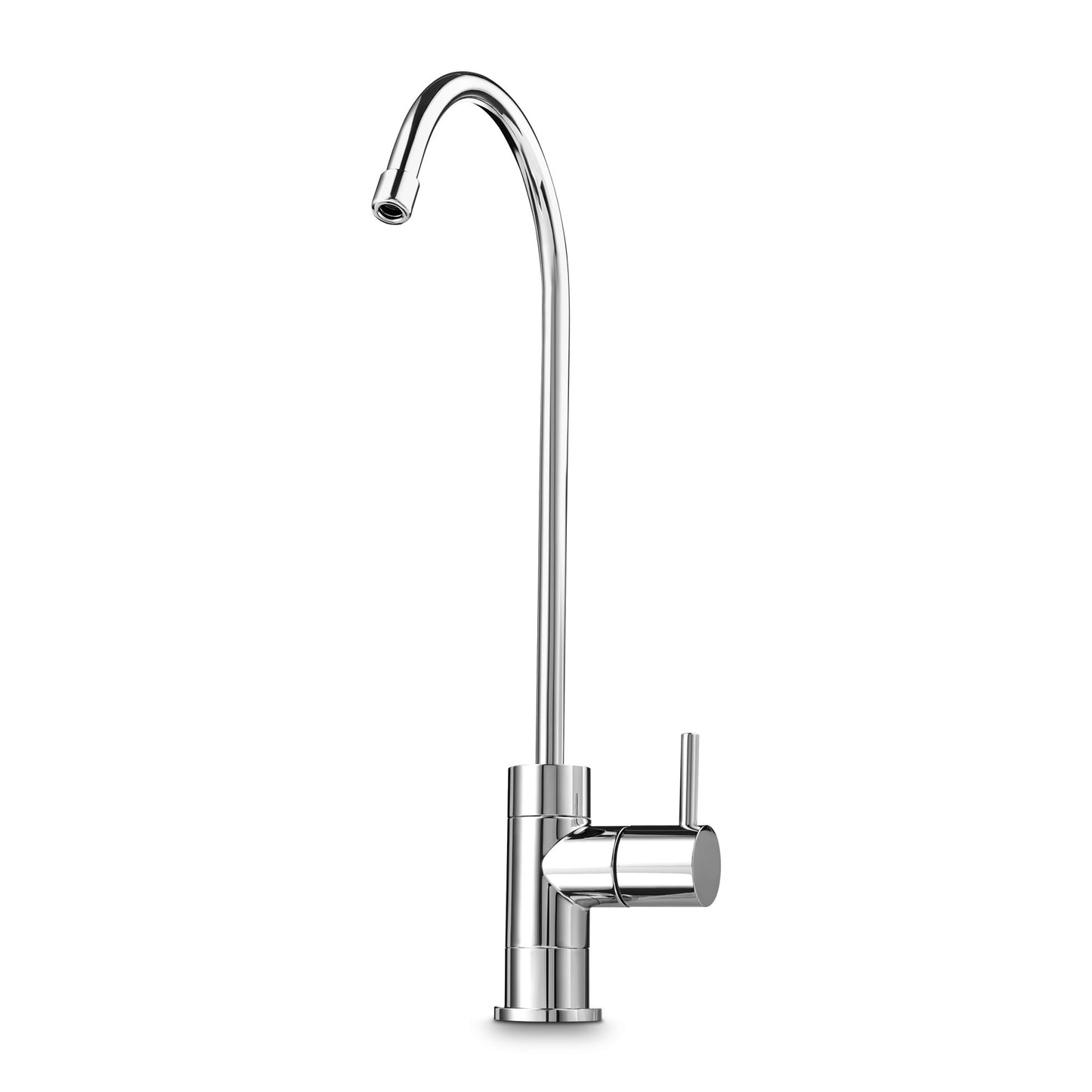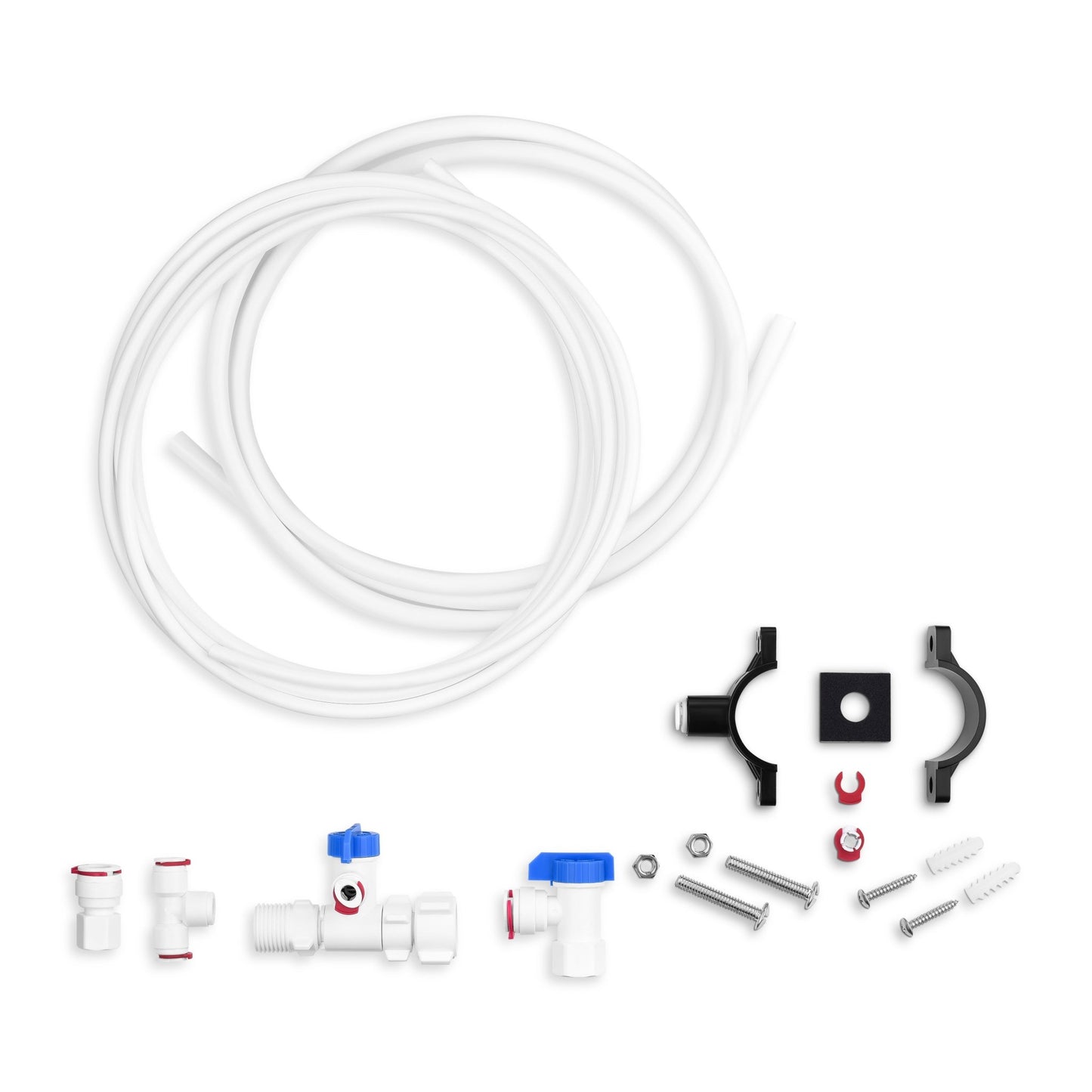 RKIN Water Systems As seen on AMC's NewsWatch TV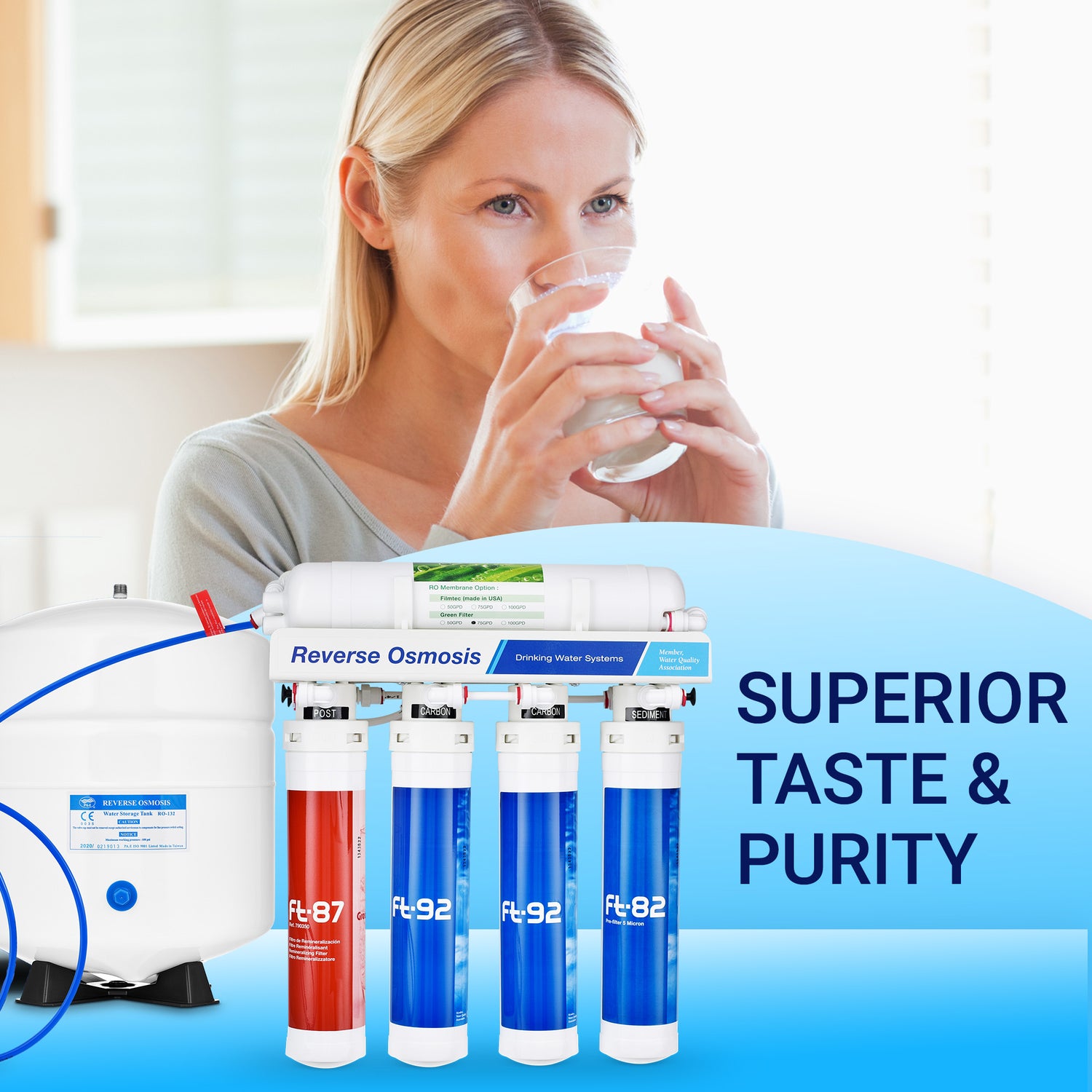 Delicious Purity
AlcaPure Post-Filter has a small amount of Calcium and Magnesium Minerals returned back to purified water to give you a taste comparable to your favorite bottled water: Alkaline 7-8pH, with beneficial minerals added.

-OR-

OnliPure Post-Filter brings the TDS reading to zero. Zero TDS or Total Dissolved Solids is perfect for people who want Absolute Purity.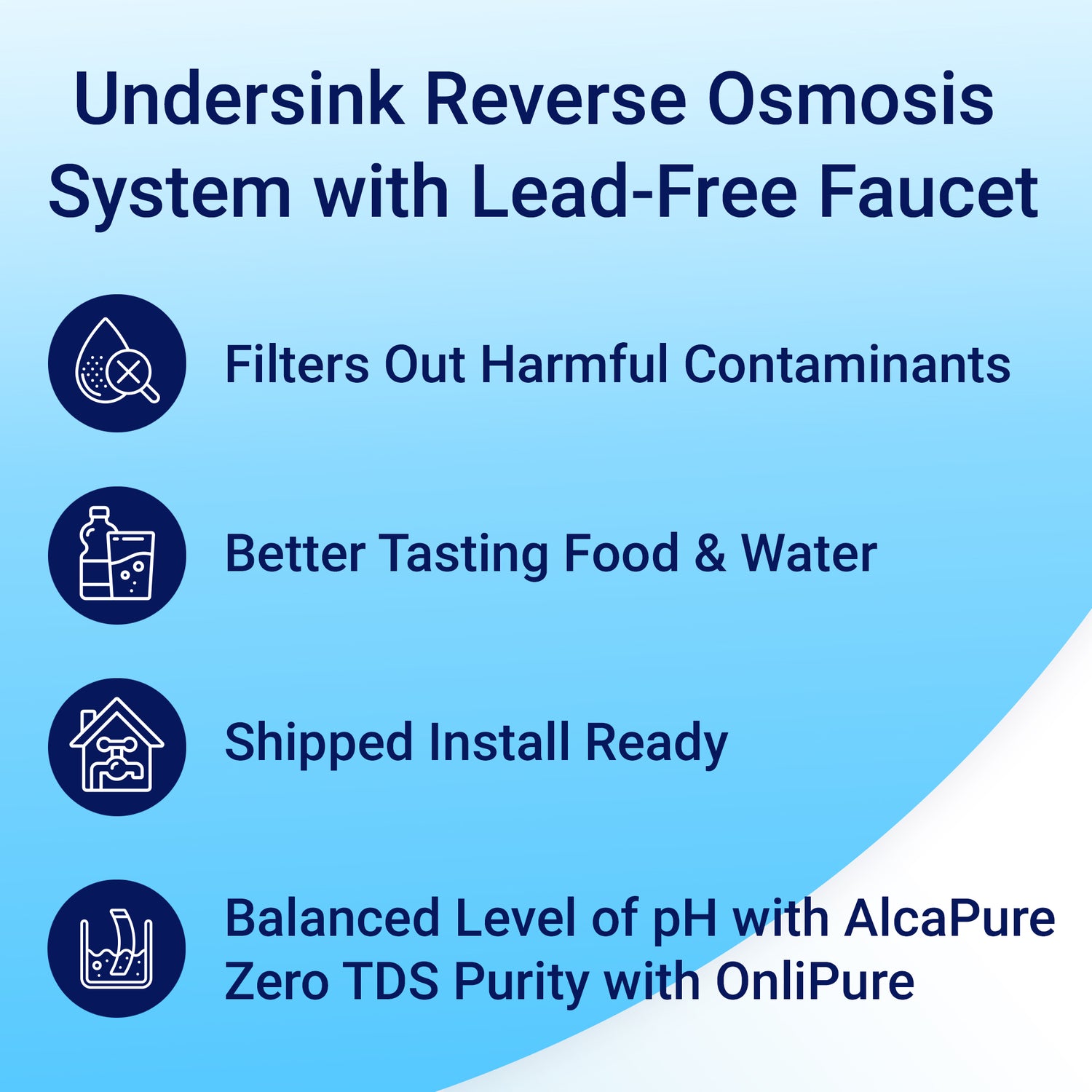 Efficient Filtration
75-Gallon Per Day Reverse Osmosis Membrane delivers 50% faster pure water production compared to most other undersink reverse osmosis water filters.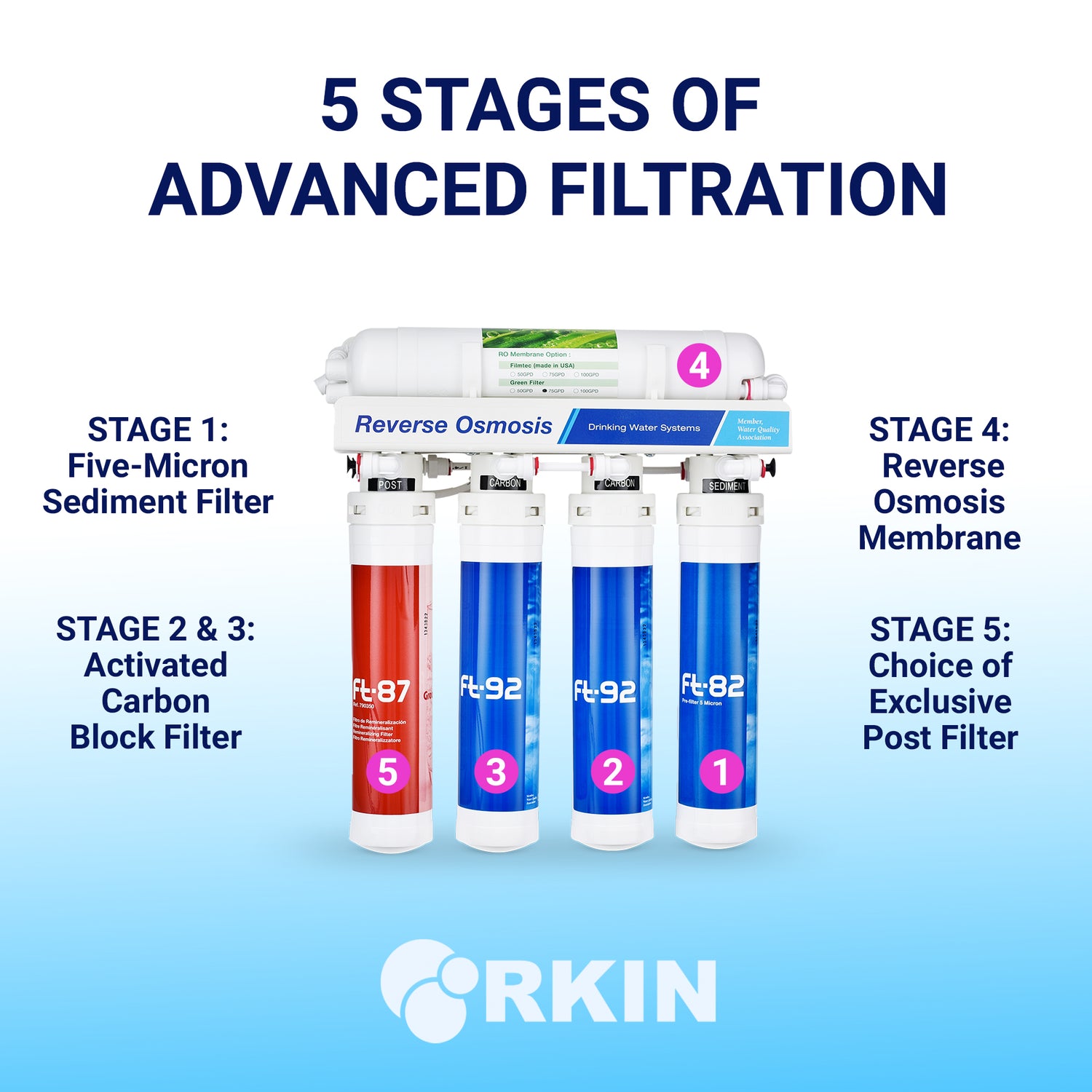 Sanitary Filter Replacements
Quick and easy twist-on and-off filter replacements without the need to drain filter housings and deal with leaky o-rings.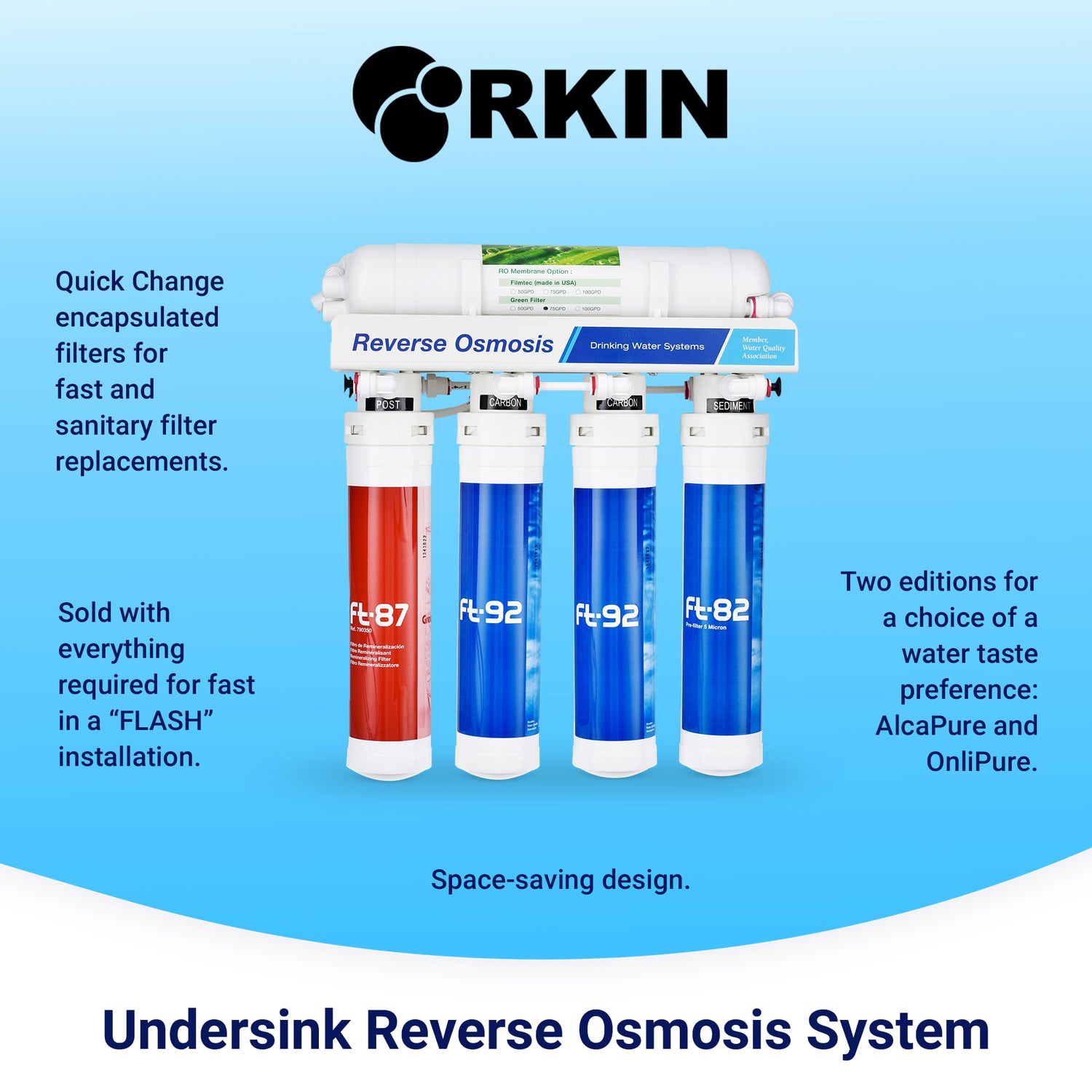 Non-Electric Operation
The pump-less operation makes the filtration process the quietest in the market without using any electricity.

This light weight system can be mounted under the sink or secured in place with velcro.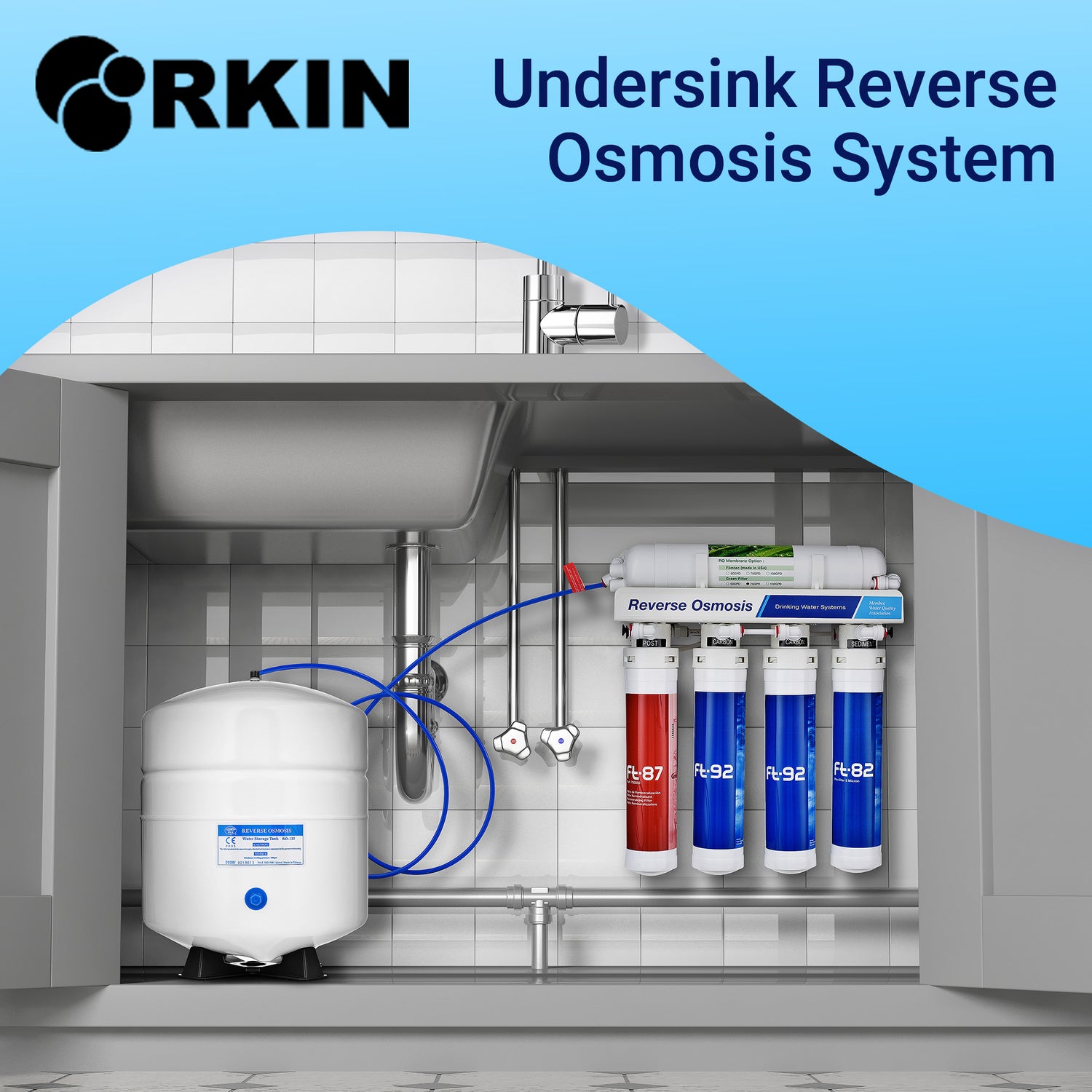 Space Saving Design
Undersink space is in very high demand, and your undersink water filter should not be taking up most of it.

Flash R.O. system's slim design and the small tank will allow for more storage space.

DIMENSIONS:

Flash R.O. Dimensions - W 5.5", L 14", H 16"
R.O. Tank Dimensions - W 11", L 11", H 14.5"
R.O. Tank can be placed vertically or horizontally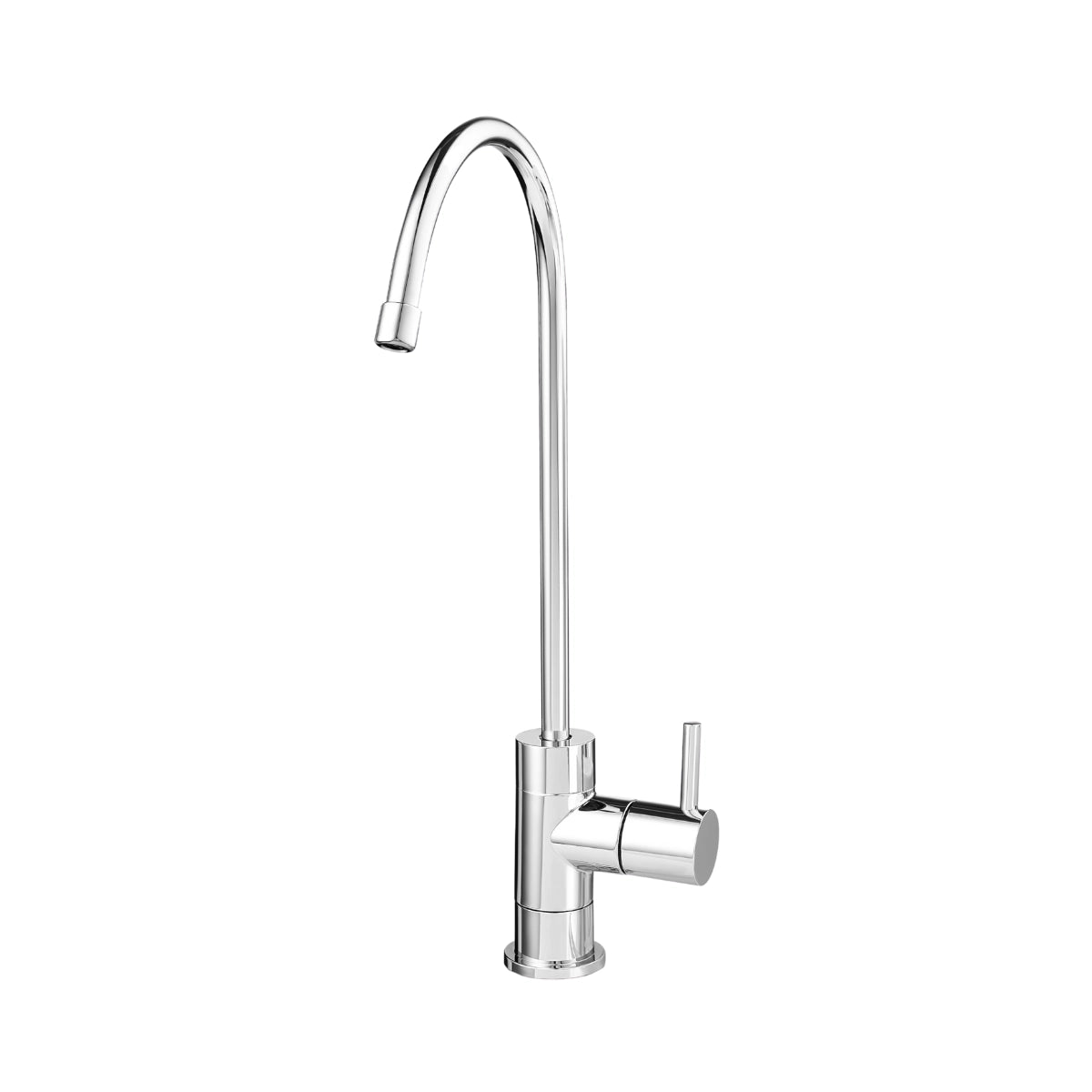 Chrome Lead Free Faucet
Chrome Gooseneck Leadfree faucet with easy-to-use bat-style handle makes filling up drinking glasses and whole pitchers effortless.
What are total dissolved solids or TDS?
Total Dissolved Solids Or TDS is a measure of the dissolved combined content of all inorganic and organic substances present in a liquid. TDS is sometimes referred to as parts per million (ppm). You can test water quality levels using a digital TDS meter.
Primary sources for TDS in Receiving Water
are agricultural & urban runoff, clay-rich mountain waters, leaching of soil contamination, & point source water pollution discharge from industrial or sewage treatment plants.
TDS in parts per million (PPM)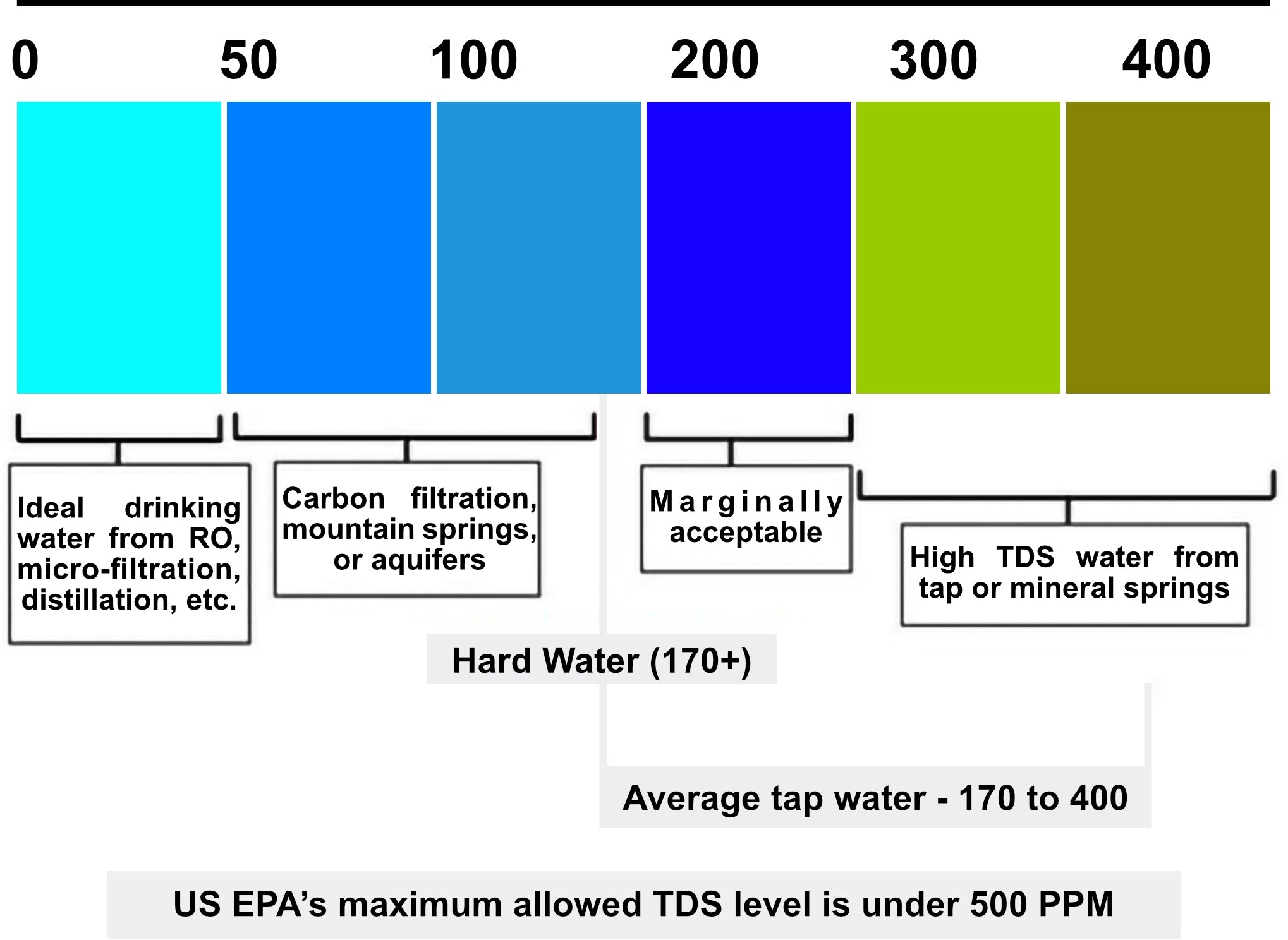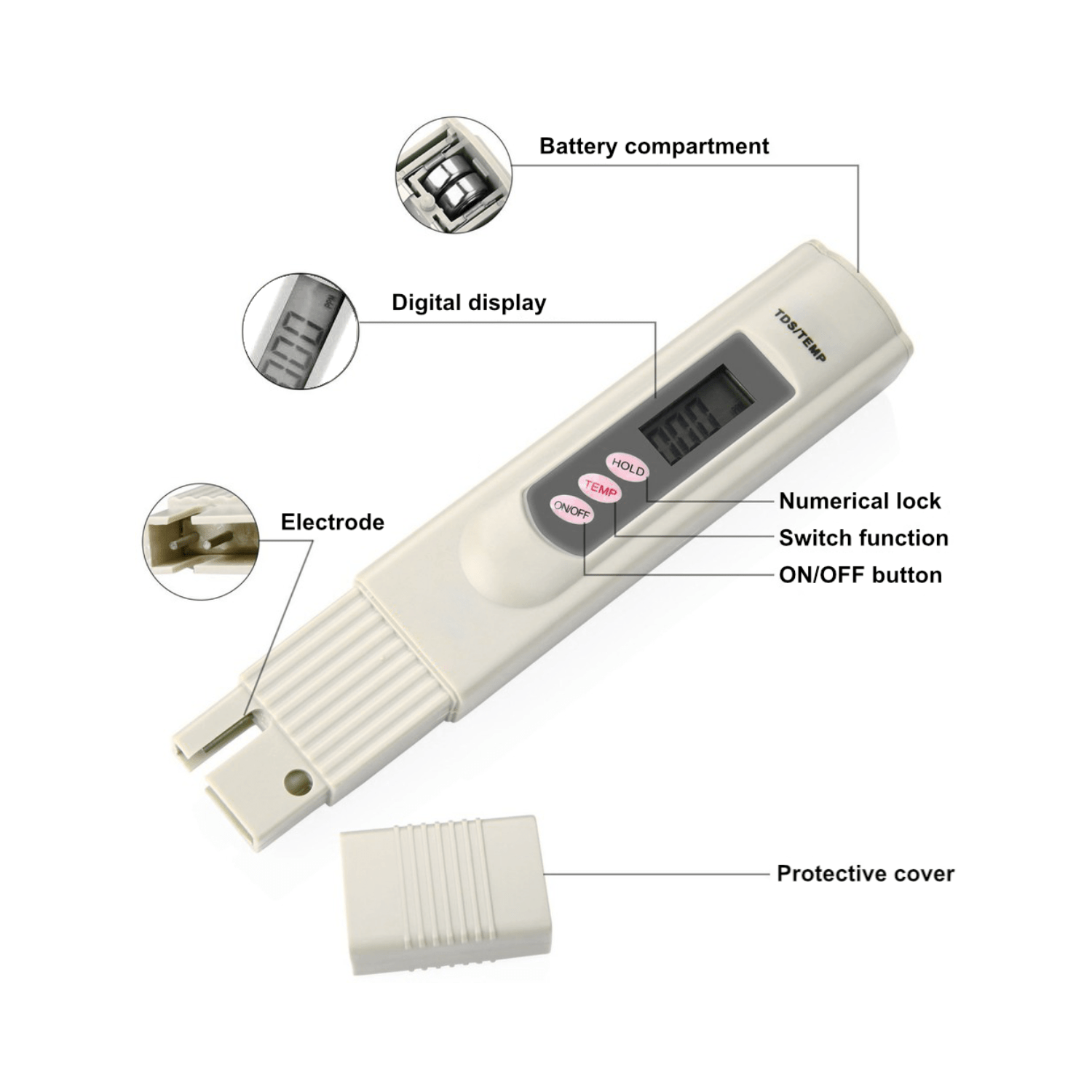 DON'T HAVE A TDS METER? GET ONE FOR FREE.
TDS meters measure your water quality using PPM, or parts per million, to give you your water's "purity score."
Because we want you to be aware of your water quality, we would like to offer you a FREE TDS meter with a Zero Installation Purifier purchase. Get this TDS meter and find out how your water measures up using the chart above.
View full details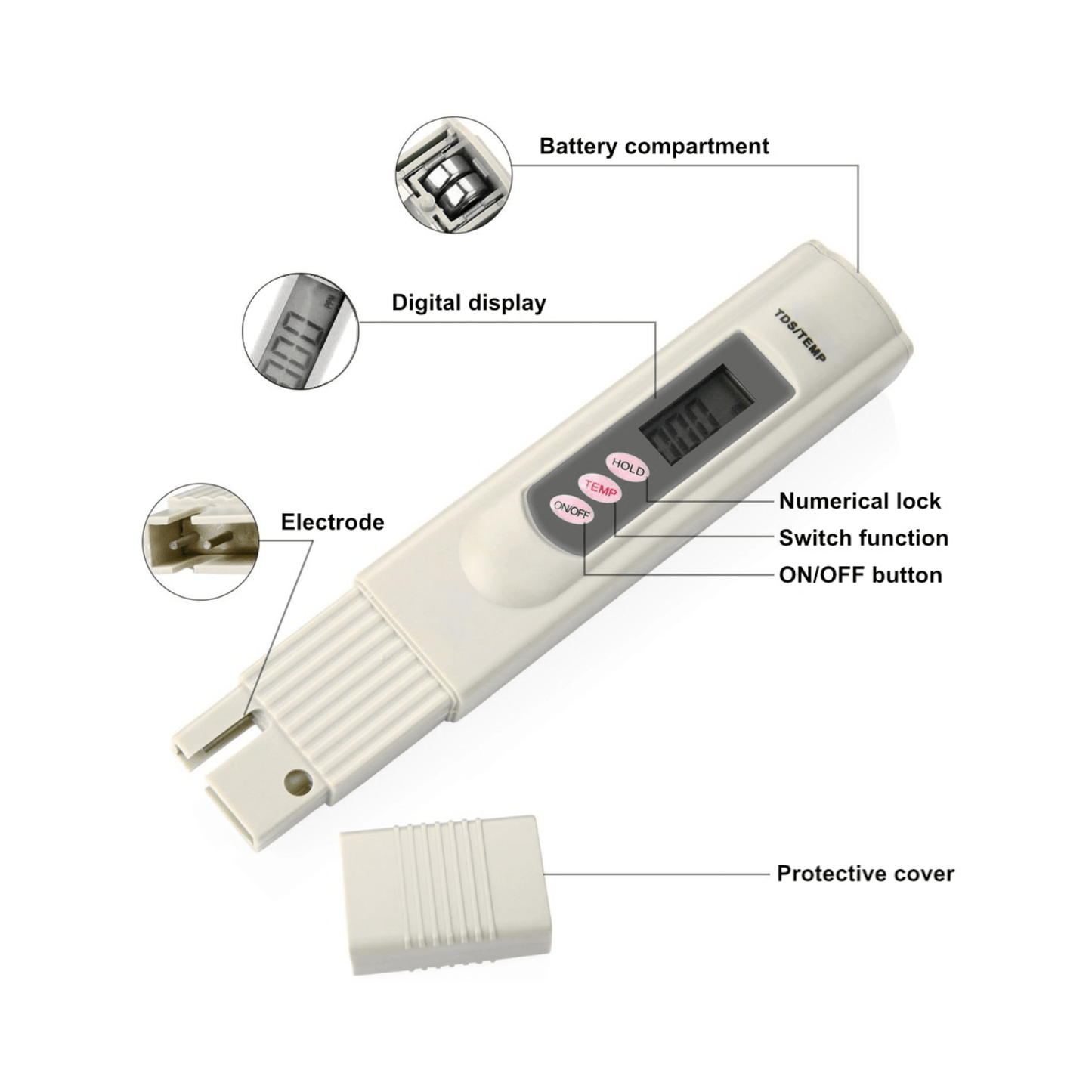 Flash reverse osmosis filter installation
Frequently Asked Questions
Who installs my RKIN Water System?
What are the dimensions of the Flash Reverse Osmosis Filter?
Does the Flash R.O. System need an electrical outlet?
Can I use another faucet other than the one that comes with the system?
What is the difference between AlcaPure and OnliPure Editions?
What if I want to switch post-filters of the Flash R.O. later?
How often do the filters need to be changed and how much do they cost?
How do I order replacement filters?
Does this system use proprietary filters available only from RKIN and reseller partners?
Consumables and replacement cartridges
Your water quality may affect the longevity and replacement frequency of the filters.

First Stage Filtration - 5 Micron Filter. MPN: RC-FT-82. Replace every 12 months or as needed.

Second and Third Stage Filtration - Carbon Block Filter. MPN: RC-FT-92. Replace every 12 months or as needed.

Fourth Stage Purification - 75 Gallon Per Day RO Membrane. MPN: ZIPM75. Replace every 24 months or as needed.
Hardness over 10 gpg (171 mg/L) may reduce the lifespan of the RO membrane. If the filtered water production decreases over time, please replace the RO membrane and substitute 2nd stage Carbon Block filter with a PPH Anti-Scale Carbon filter, MPN: RC-FT-90, to prevent premature RO membrane failure due to hardness build-up.

Fifth Stage - AlcaPure Post Filter. MPN: RC-FT-87. Replace every 12 months or as needed. OnliPure Post Filter. MPN: RC-FT-OP. Replace as needed.
Enjoy the peace of mind that comes with up to 99% removal of contaminants, including fluoride, chlorine, and heavy metals

Choose from our AlcaPure or OnliPure editions for alkaline pH or zero TDS filtration options

Trust in our NSF/ANSI 58 certified reverse osmosis membrane, 1-year warranty, 1-year satisfaction guarantee
Regular price
$499.95
Sale price
$299.45
Unit price
per
Sale
Sold out
View full details