Regular price
$489.95
Sale price
$439.95
Unit price
per
Sale
Sold out
Add to cart to reveal additional discounts
Enjoy alkaline or zero TDS filtered water from a portable and convenient countertop system

Drink more water and enhance the flavor of your coffee, tea, and food with better water quality

Certified by IAPMO R&T to NSF/ANSI 58 for the reduction of TDS, Fluoride, Lead, PFOA/PFOS, Hexavalent Chromium, and Trivalent Chromium
Share
View full details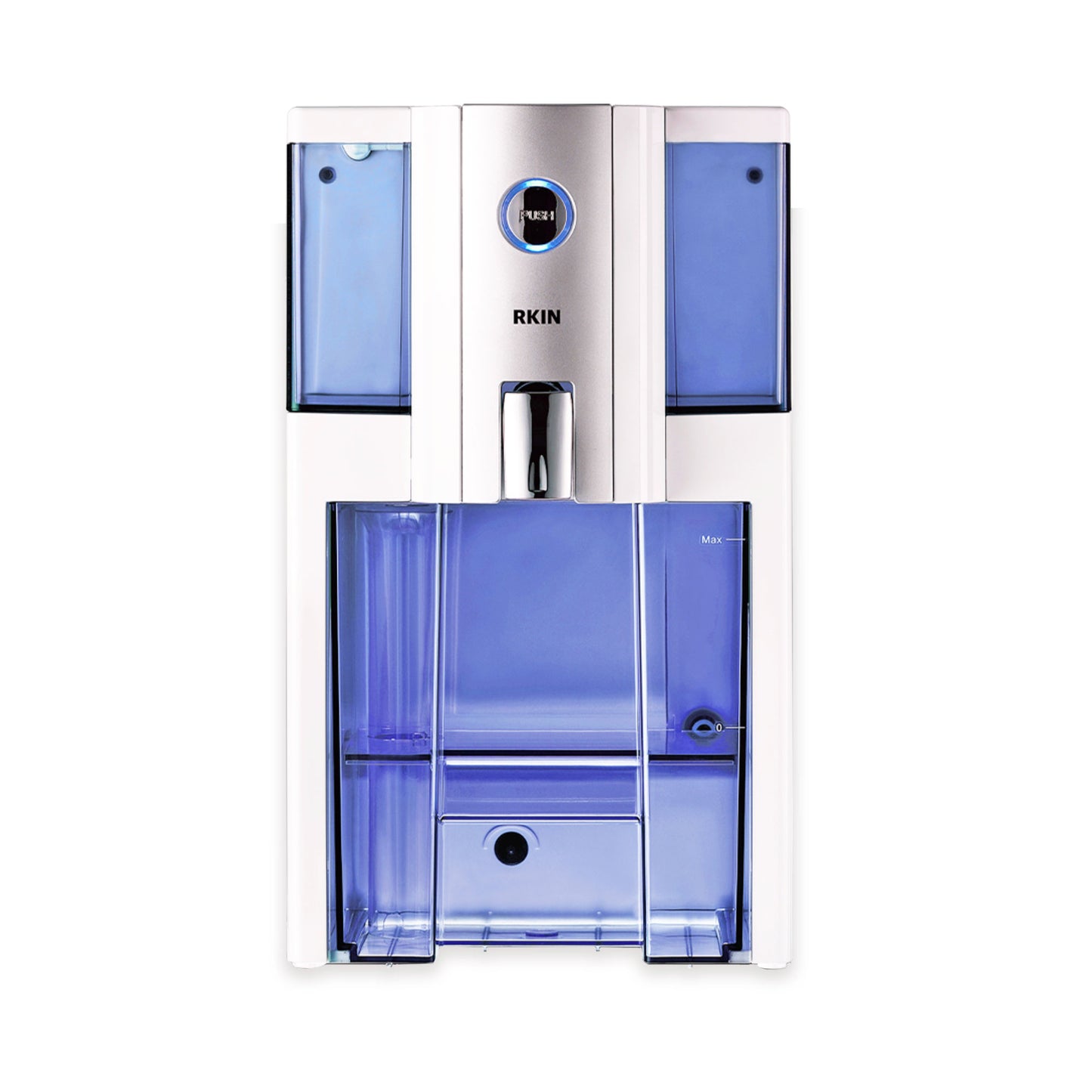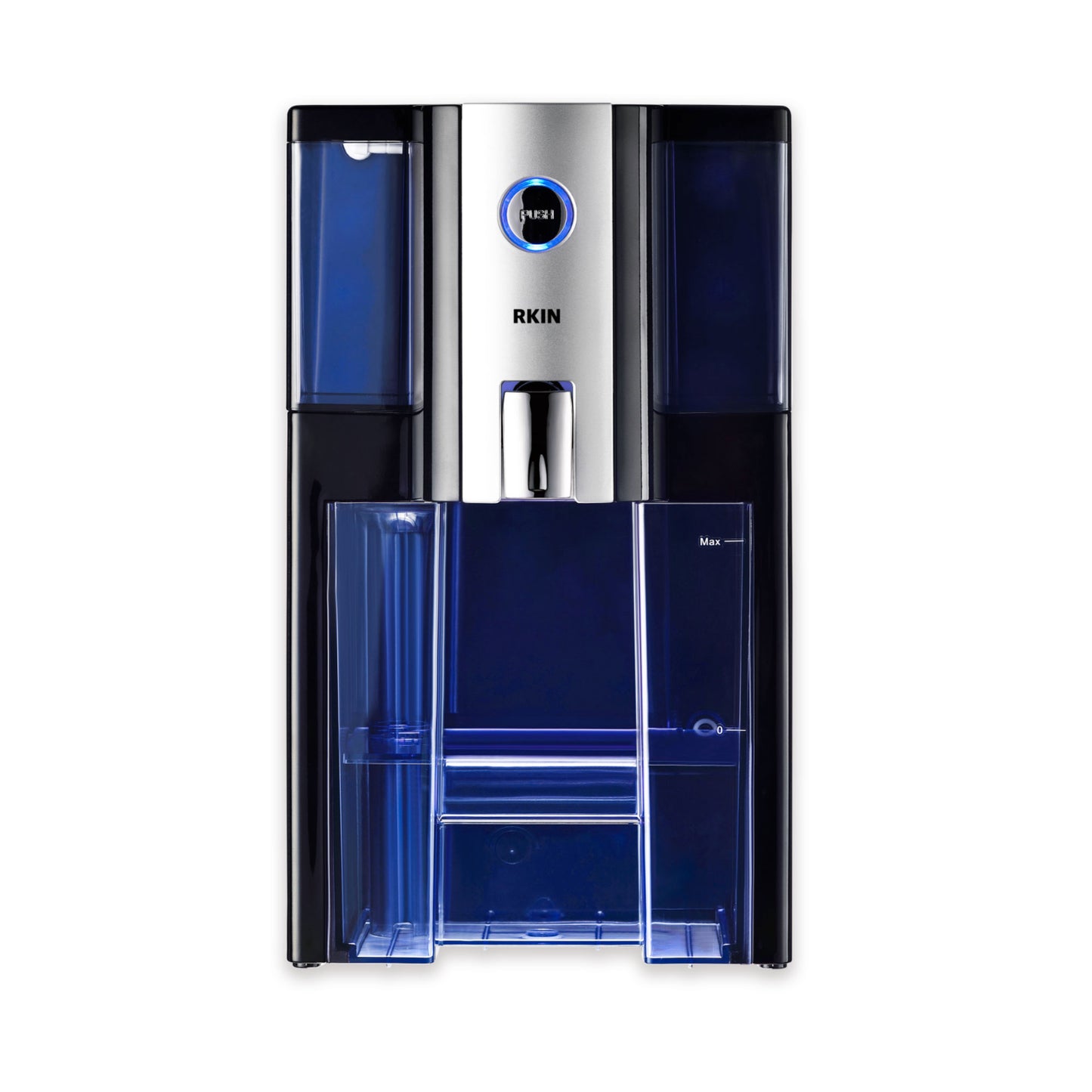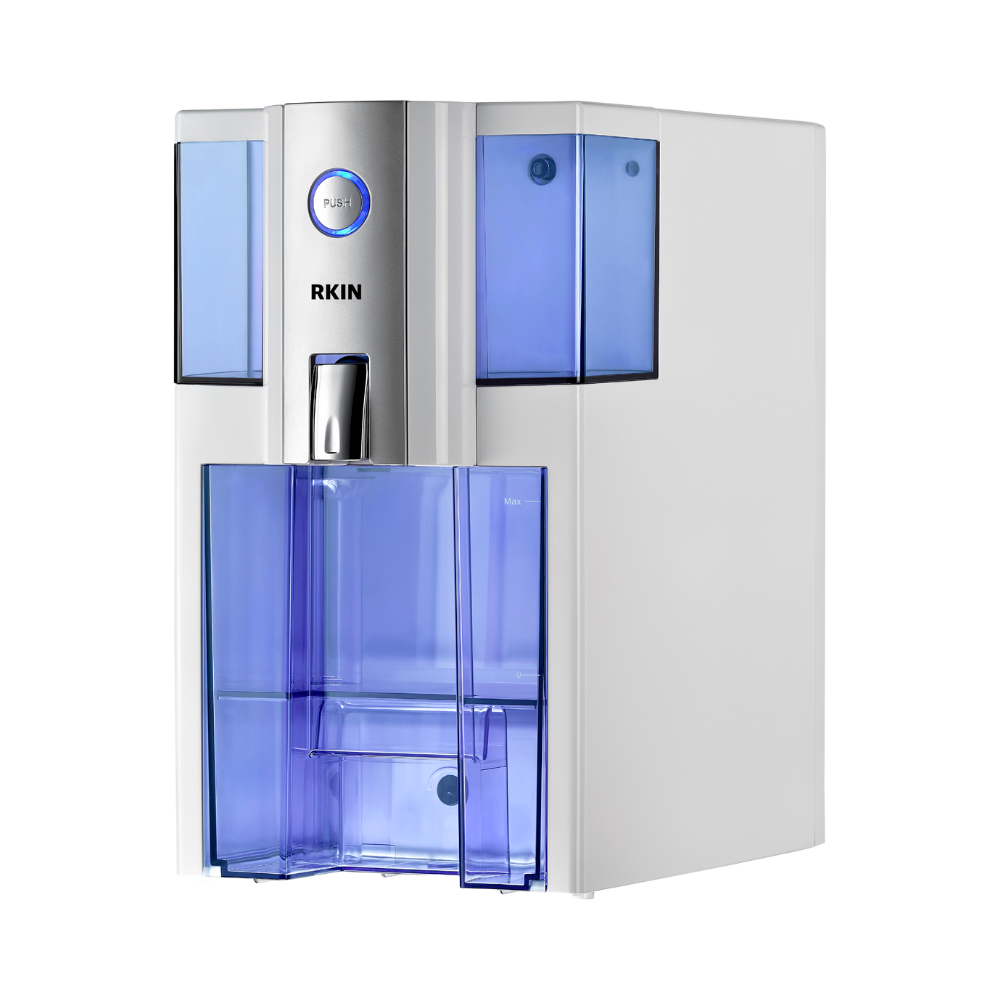 Delicious Purity
AlcaPure Edition Filtered Water has a small amount of Calcium and Magnesium Minerals returned back to purified water to give you a taste comparable to your favorite bottled water: Alkaline 7-8pH, with beneficial minerals added.

-OR-

OnliPure Edition Filtered Water brings the TDS reading to zero. Zero TDS or Total Dissolved Solids is perfect for people who want Absolute Purity.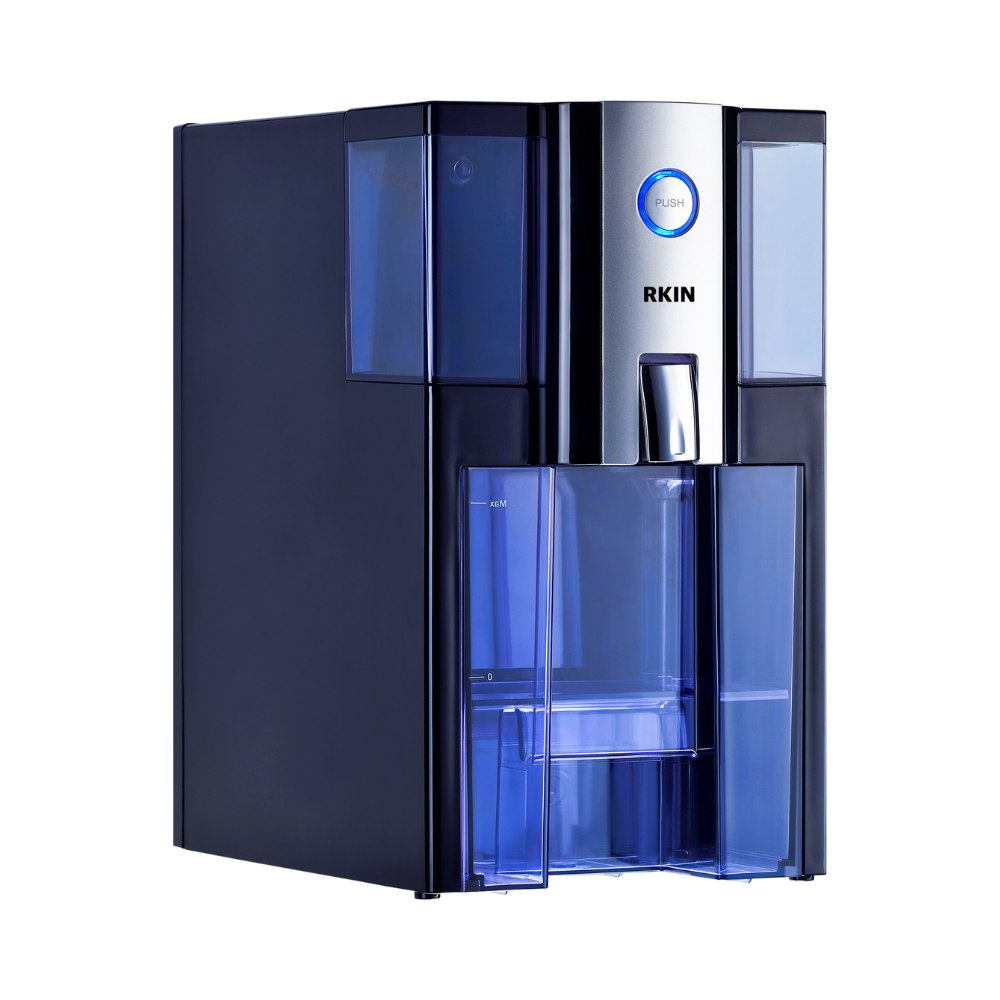 Beautiful Convenience
Works just like your coffee maker. No messy hoses and leaky diverter valves that fail all the time. Just fill the bottom pitcher with water from your kitchen faucet, push the button, and walk away.

In about 15 minutes, you will have a 1/2 gallon of pure alkaline water in the top dispenser for you to use.

Esthetics:

- Portable
- Dimensions: W 9.5", D 14.5", H 16.25"
- Will look great in your home or off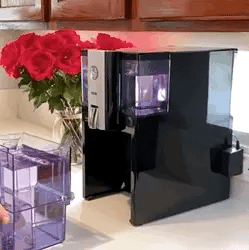 Design and Efficiency
It will look great in your kitchen. There are no leaky diverter valves or bulky hoses to attach to your faucet.

Since water is loaded and dispensed from the front of the unit, you can place it even in the tightest spaces imaginable. No additional top or side clearance is required.

Uses only 24W of power, less than a light bulb, and has a 50% (1:1) recovery rate – the best among reverse osmosis filters.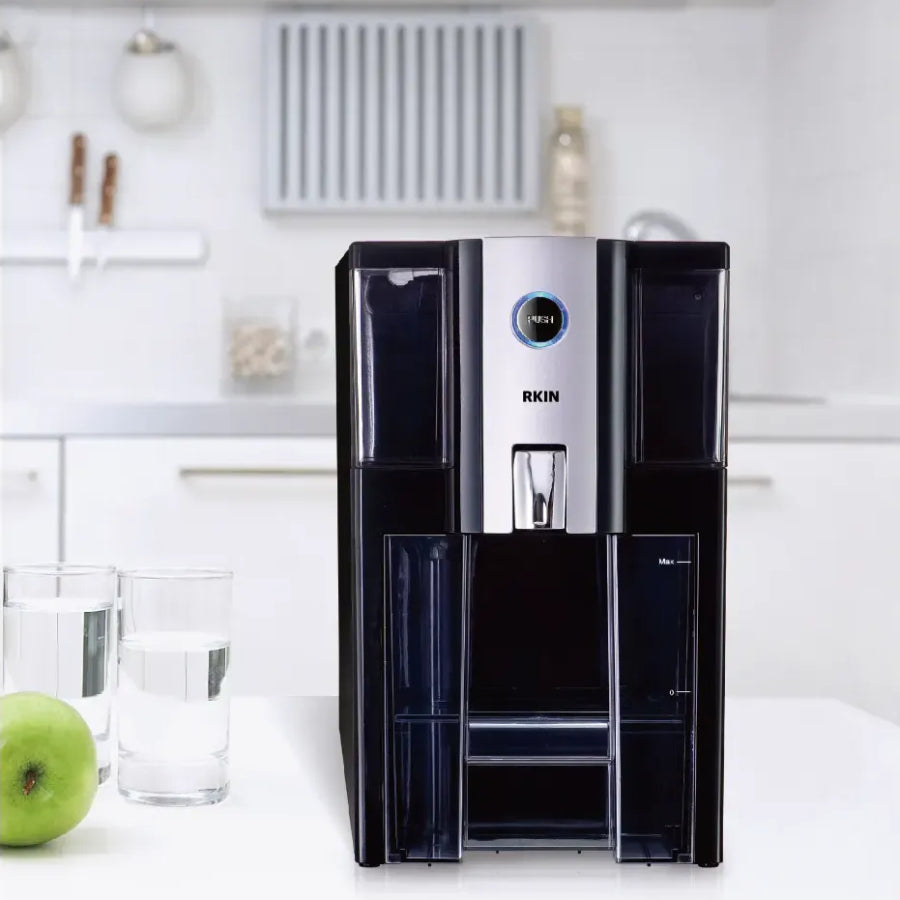 Pure Water Made Simple
No need to waste your time waiting for the filtering process to complete.

Fill the bottom container with 1 gallon of tap water, push the button, and walk away. In about 15 minutes, the top container will be filled with 0.5 gallons of purified water, and the unit will turn itself off.

Top and bottom BPA-FREE containers can be easily removed and cleaned with dish soap.
AlcaPure vs OnliPure vs others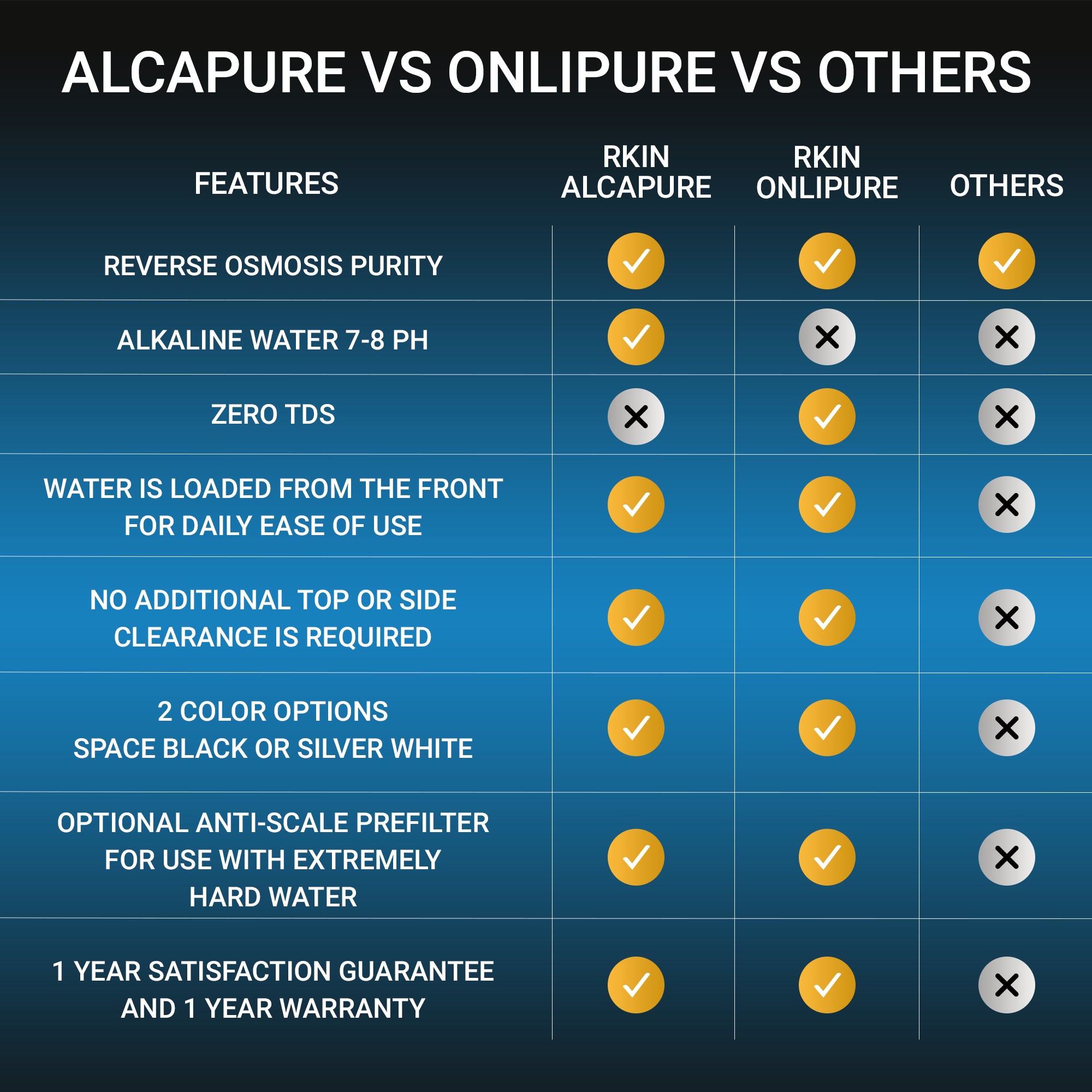 Zero Installation Purifier vs U1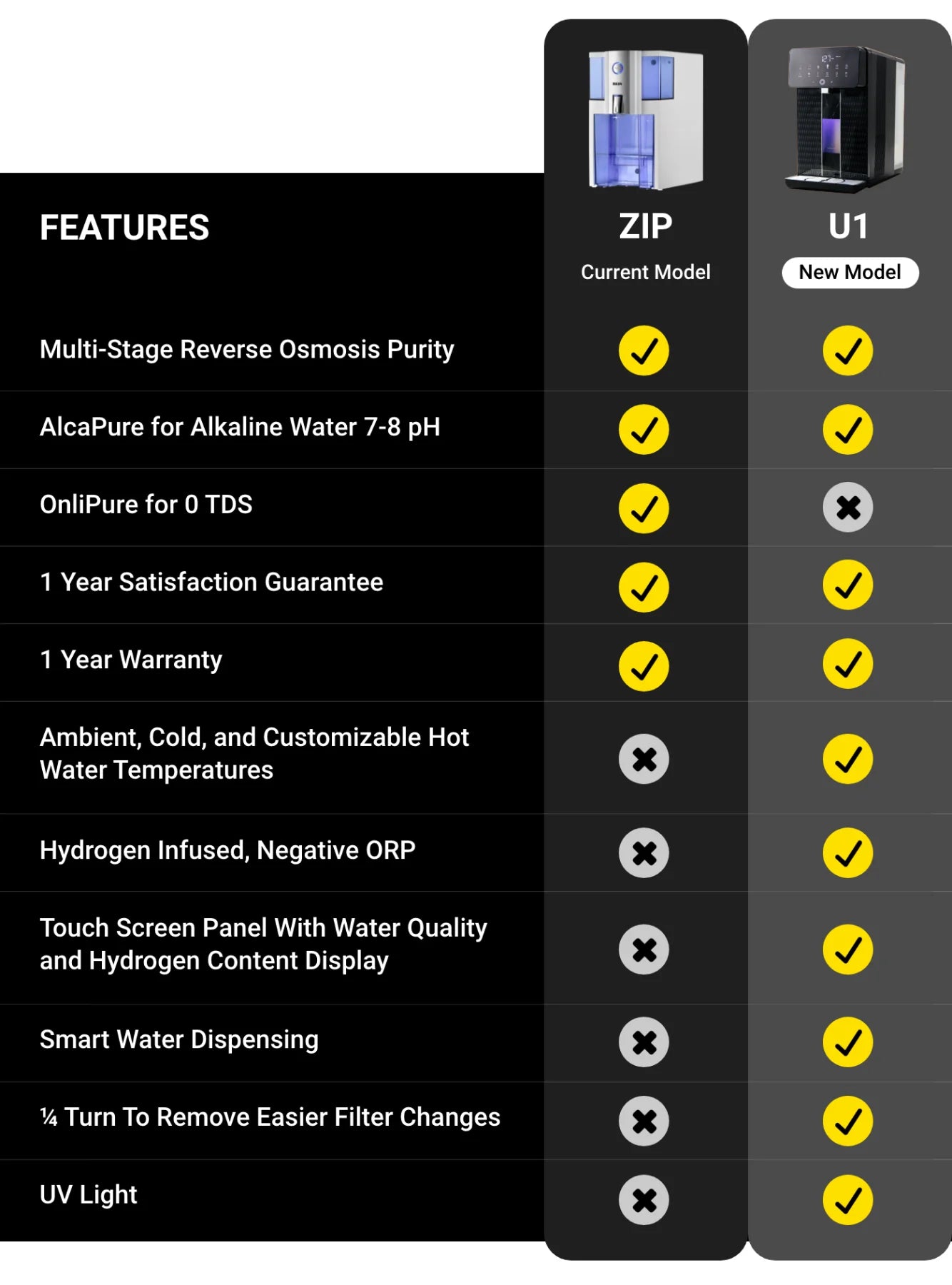 What are total dissolved solids or TDS?
Total Dissolved Solids Or TDS is a measure of the dissolved combined content of all inorganic and organic substances present in a liquid. TDS is sometimes referred to as parts per million (ppm). You can test water quality levels using a digital TDS meter.
Primary sources for TDS in Receiving Water
are agricultural & urban runoff, clay-rich mountain waters, leaching of soil contamination, & point source water pollution discharge from industrial or sewage treatment plants.
TDS in parts per million (PPM)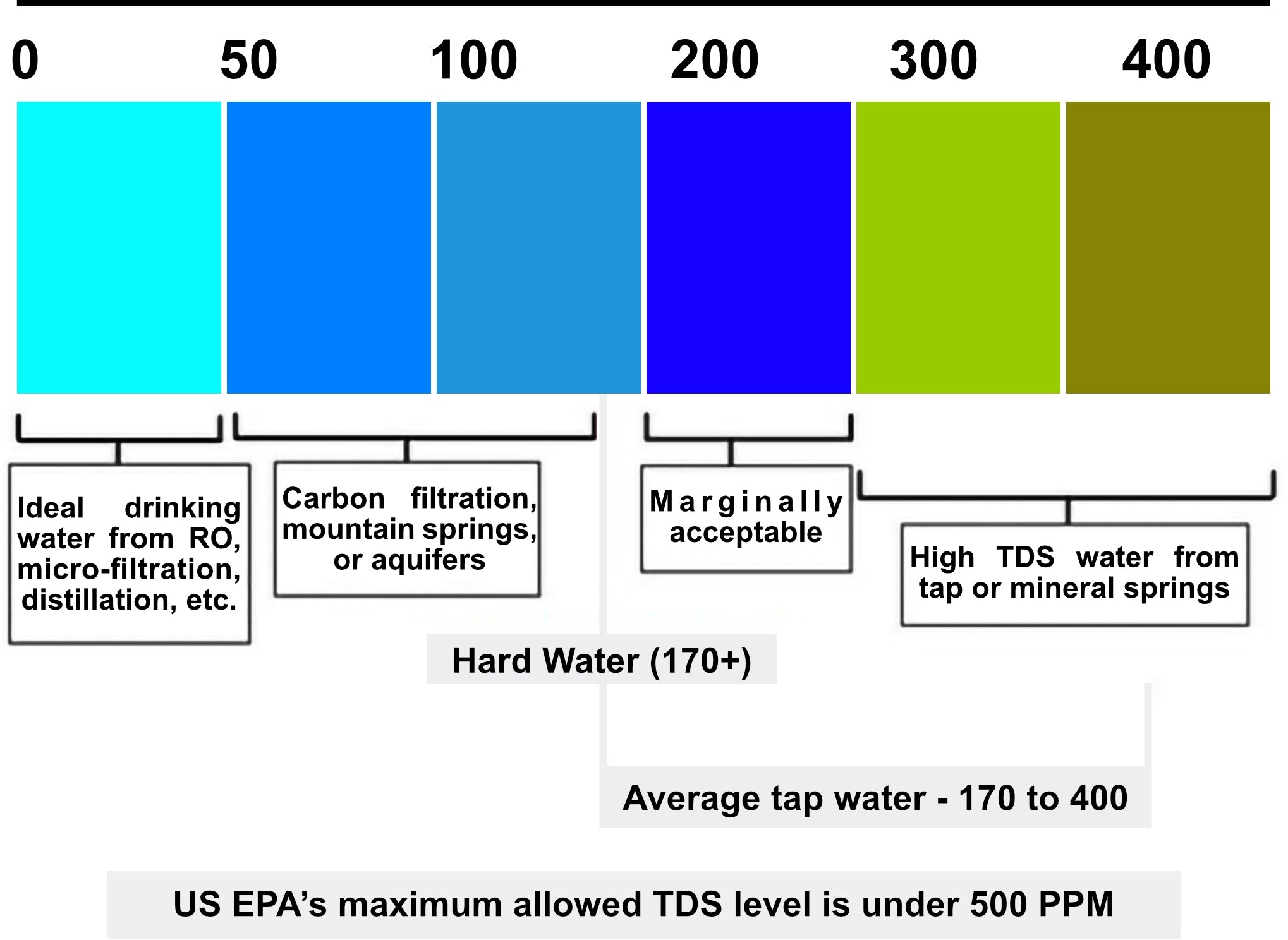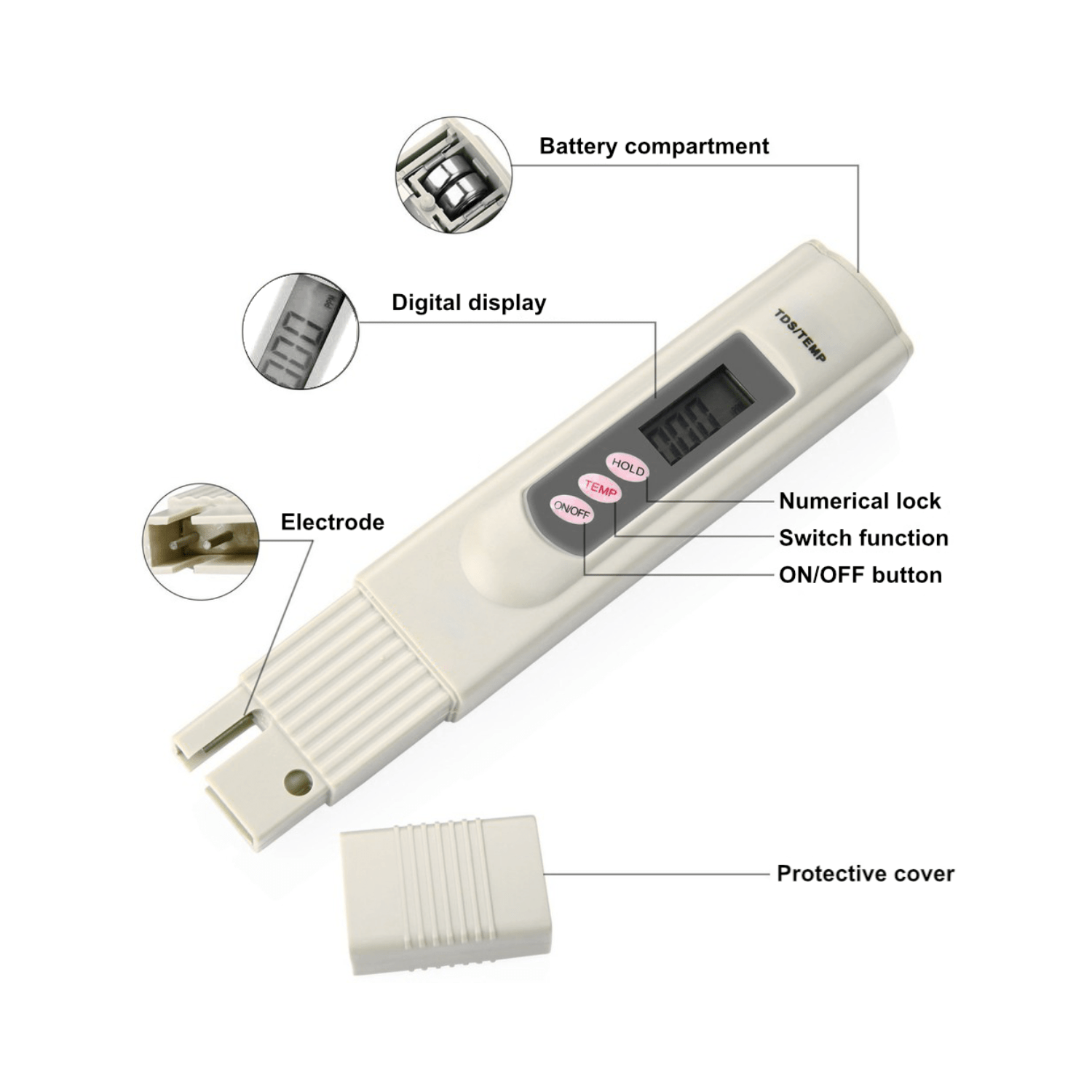 DON'T HAVE A TDS METER? GET ONE FOR FREE.
TDS meters measure your water quality using PPM, or parts per million, to give you your water's "purity score."
Because we want you to be aware of your water quality, we would like to offer you a FREE TDS meter with a Zero Installation Purifier purchase. Get this TDS meter and find out how your water measures up using the chart above.
View full details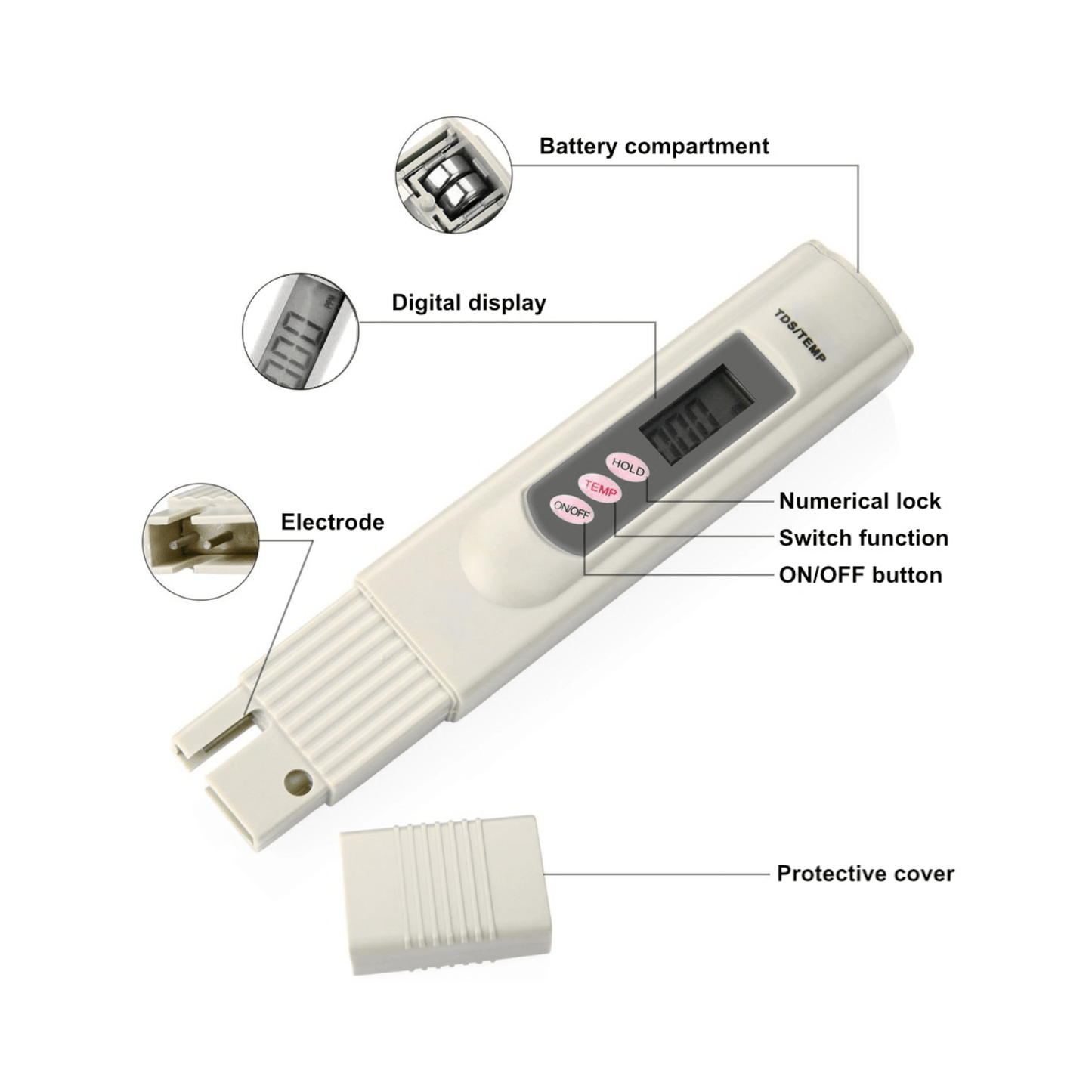 AlcaPure™ vs OnliPure™ Review
Frequently Asked Questions
Is Zero Installation Purifier Certified by a third party and BPA free?
What are the dimensions of the Zero Installation Purifier?
What is the difference between AlcaPure and OnliPure Editions?
What if I want to switch editions of the Zero Installation Purifier later?
How long does it take to fill the top tank with purified water?
How much filtered water does the top tank hold?
How often do the filters need to be changed and how much do they cost?
How do I order replacement filters?
Does this system use proprietary filters available only from RKIN and reseller partners?
Does Zero Installation Purifier remove the "XYZ" contaminant?
What if I have questions or need support?
Consumables and replacement cartridges
4 Stages of Advanced Filtration:
Your water quality may affect the longevity and replacement frequency of the filters. The Zero Installation Purifier Countertop Reverse Osmosis Water Filter comes ready to use out of the box. All the filters and reverse osmosis membrane are preinstalled. You don't need to purchase them separately when you buy the water system unless you are purchasing spares for the following filter change. 
First Stage Filtration - A 5-micron sediment filter with a unique gradient pore structure traps larger particles in its outer layer and smaller ones in the inner layer, effectively removing particles such as sand, sediment, and rust.
MPN: RC-FT-82. Replace every 12 months or as needed.

Second Stage Filtration - Coconut-based activated carbon block filter with high adsorption capability removes harmful chemical residues and carcinogens such as VOCs, THMs, and pesticides, eliminating foul odors and bad taste. MPN: RC-FT-92. Replace every 12 months or as needed. Or an Anti-Scale Version of the Carbon Block Filter for use with extremely hard water.
MPN: RC-FT-90. Replace every 12 months or as needed.

Third Stage Purification - NSF/ANSI 58 Certified reverse osmosis membrane with 75 Gallon Per Day filtration capacity purifies water by blocking virtually all harmful contaminants. It's the heart of the reverse osmosis system.
MPN: ZIPM75. Replace every 24 months or as needed. 
Hardness over 10 gpg (171 mg/L) may reduce the lifespan of the RO membrane. If the filtered water production decreases over time, please replace the RO membrane and substitute the 2nd stage Carbon Block filter with a PPH Anti-Scale Carbon filter to prevent premature RO membrane failure due to hardness build-up.

Fourth Stage - OnliPure™ The specialty Ion Exchange Media inside our OnliPure Post Filter reduces any leftover contaminants after the Reverse Osmosis process to zero TDS. Measure and confirm from your home with a simple TDS meter.
- OR -
AlcaPure™ Polishing Alkaline Post Filter returns beneficial minerals – Calcium and Magnesium to purified water for the best taste. It also increases the alkalinity of the water to a perfectly balanced level of 7-8 pH.
Getting an abnormal filtered water taste is a good indication that the OnliPure Ion-Exchange post-filter has been exhausted and needs replacement.
AlcaPure Post Filter, MPN - RC-ZIPFAP, Replace every 12 months or as needed.
OnliPure Post Filter, MPN: RC-DIPFL2.5x10. Replace as needed.
Regular price

From $69.95

Regular price

Sale price

From $69.95

Unit price

per

Regular price

From $89.95

Regular price

Sale price

From $89.95

Unit price

per

Regular price

Sale price

$69.95

Unit price

per
Collapsible content
Specs

| Recovery Rating | Efficiency Rating | Production Rate |
| --- | --- | --- |
| 55.08% | 55.08% | 45.4 Gallons Per Day |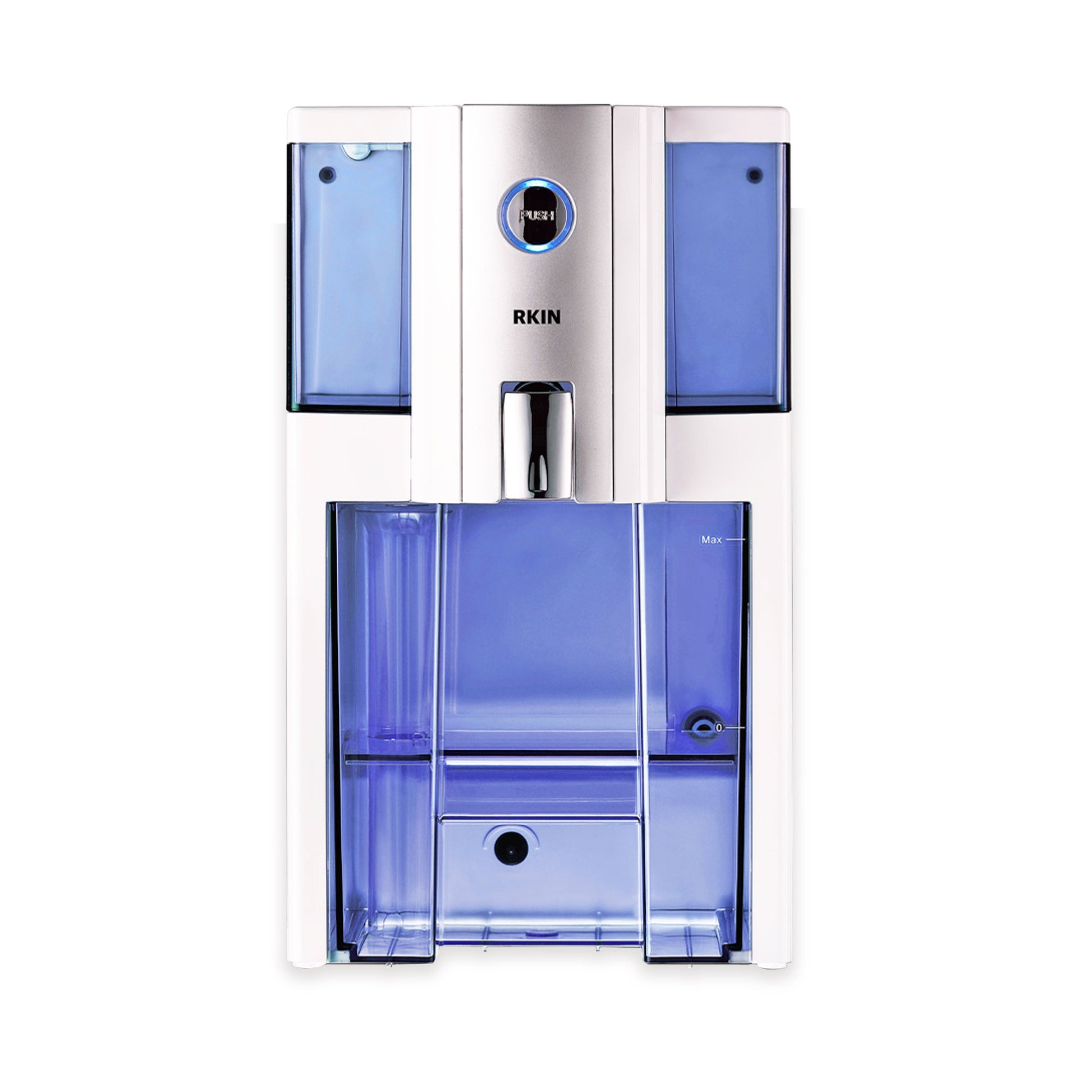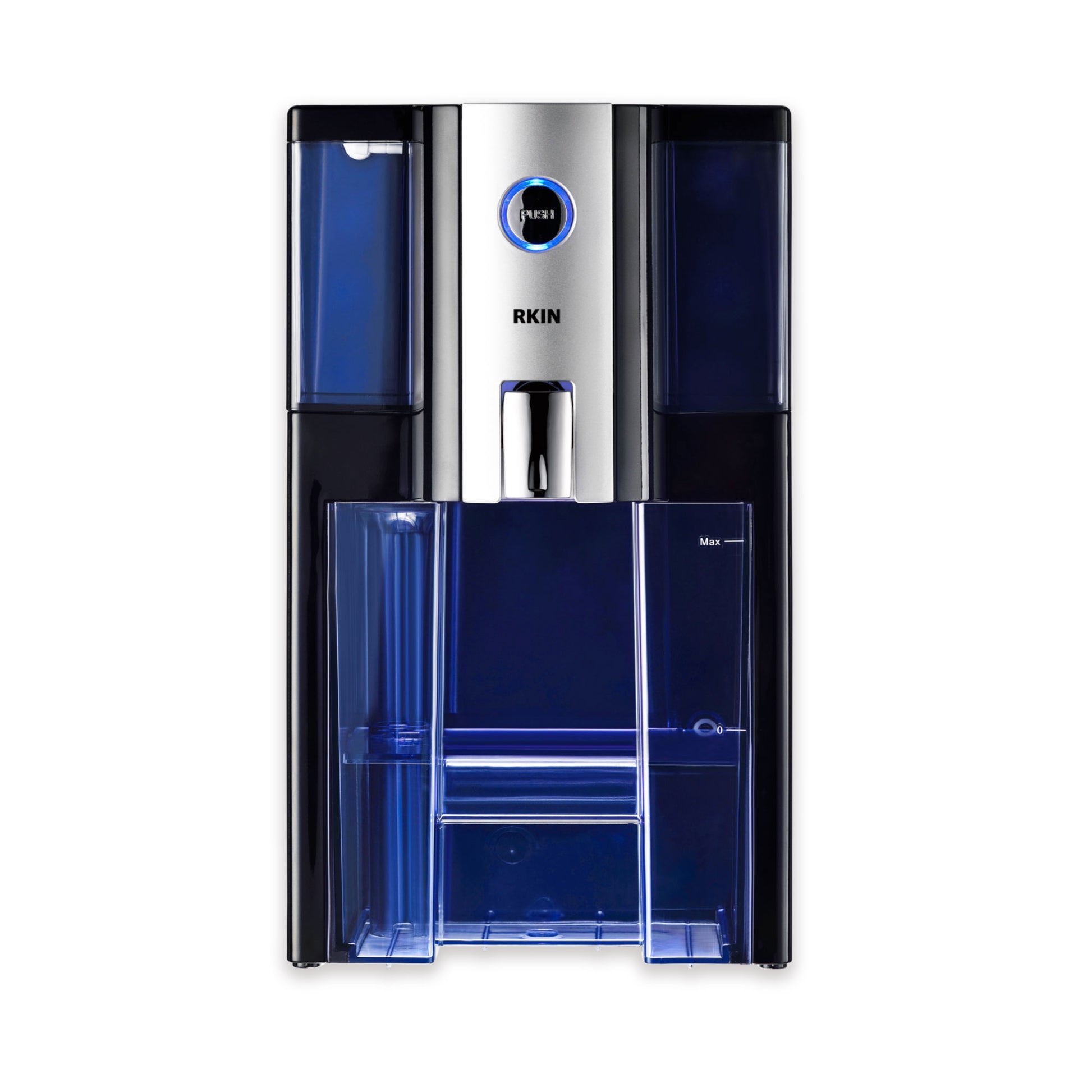 Enjoy alkaline or zero TDS filtered water from a portable and convenient countertop system

Certified by IAPMO R&T to NSF/ANSI 58 for the reduction of TDS, Fluoride, Lead, PFOA/PFOS, Hexavalent Chromium, and Trivalent Chromium

Enjoy alkaline or zero TDS filtered water from a portable and convenient countertop system
Regular price
$489.95
Sale price
$439.95
Unit price
per
Sale
Sold out
View full details